Well, it's taken a while, but I've finally caught up on nearly all the things I had to do and now have time to record the adventures of Steve and myself in Holland
Day One - Thursday 13th October - Departure
I had to work Thursday morning, so I didn't get home to get my stuff ready until about 2:00, Steve was coming to pick me up at about 3:00. It took me ages to get all my stuff together, even though most of it had been packed the previous night, as I spent ages looking for one power supply. Even when Steve arrived I had a bit of a job making sure I didn't forget anything. Eventually everything was packed and we headed off to Hull.
Arrived in Hull around 6:00 pm and got to the ferry terminal about 6:15. We were on the ferry by about 6:45. We found our room, dumped our stuff then headed up to the top deck so we could get reception to send a few text messages. Enjoyed some entertainment from a Yamaha Grand acoustic piano, which was merrily playing itself, and then some 'light cocktail' music from a young lady singing acoustic ballads.
We then had a wander round to see if we could find some food, discovered everything was really expensive and finally settled for some Continental snacks. We then headed back to the cabin for a can of beer. Steve was pretty tired from all the driving and went straight to bed, whilst I had a play on my P600 for an hour or so and then decided to get some sleep too.
Day Two - Friday 14th October - Lost in Holland/ Garden Rehearsal
The ferry arrived into Rotterdam at about 7:00 am, which was 8:00 am UK time. We had directions from Ron from Rotterdam to Best, were he lived, which looked fairly simple, but were in fact rather confusing. We found ourselves looking for a road called the A16, but could only find the A15. Not having a map we decided to stop at some services to see if we could buy one. Unfortunately they had maps of France and Belgium, but not Holland. Luckily there was a map on the wall on the way out which we used to get our bearings and plan our route.
Back on the motorway we made good time and got to Best around 11:00 (NL time). We found Ron's house quite easily and rang the doorbell, which was answered by his wife, who invited us in and made us a drink :)
Ron wasn't there when we arrived as he was finishing a few jobs ready for the big day. We wanted to unload our gear and Steve wanted a bit of practice, so rather than clutter up Ron's house, as it was a lovely sunny day, we decided to set up outside, under a canopy on Ron's patio.
Gear in the garden
Posing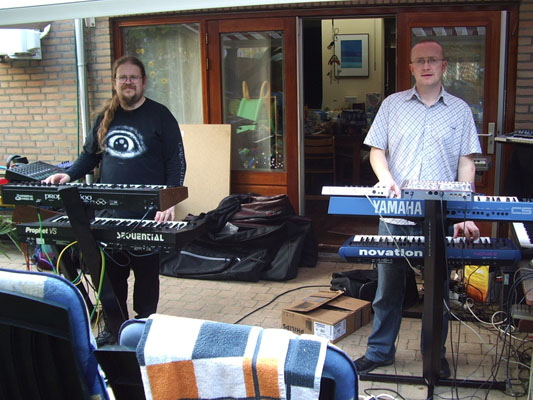 Ron returns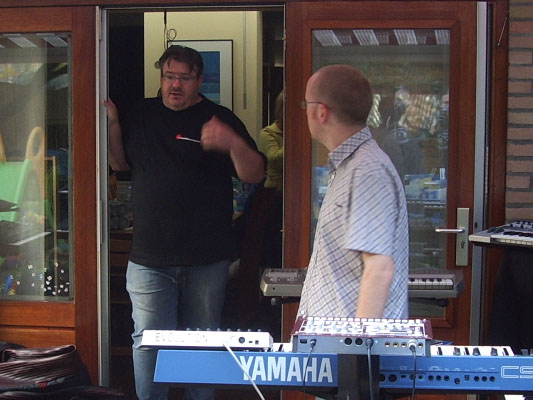 Steve played through his set then we practised a few ideas for our encore as Astrogator and then just jammed for a while. Whilst we were playing we were joined by Mick Garlick who had come over with Michael Shipley and Steve Smith (VoLt), who stayed for a chat and a bite to eat then had to head off to check in to their hotel, but not before arranging a rendezvous in Eindhoven for beer that evening.
We finished rehearsing, packed all the gear up, moved it into the house and then sat out on Ron's patio as darkness fell. Ron returned from some more preparations and we had a discussion about the electronic music business and Ron shared his views on EM from the perspective of a musician, label owner and retailer. Some thought provoking stuff.
Then it was time for dinner, burgers and fries (with egg) and then into Eindhoven for beer. We decided to drive, as taxis are relatively expensive in Holland, so we got directions from Ron and confidently headed off. Unfortunately we hadn't got our bearings right and got horribly lost, then found a road into Eindhoven, then had to do several circumnavigations of the town centre as we couldn't find anywhere to park, eventually finding a car park near the station. Then we had to find our way to our destination, based on memories from last year, which amazingly, we did.
We met Mick, Steve and Mike, as well as Phil Booth and Ian Russell and spent a pleasant couple of hours enjoying some fine Dutch lager and chatting about electronic music. It was quite weird the way the bar was run as waitresses came to take orders, but never took any money. Soon it was time Steve and I had to leave, so that we could get back to Ron's before the door was locked at 1:00am and we still hadn't paid any money, so as the others were staying, we left them some money, which was lucky for Mike and Steve, who got the bill for the whole evening when they finally decided to leave.
Well, unsurprisingly enough we had a job getting back to Ron's in time as we managed to find a different way back to Best and got completely lost, ending up going round the ring round trying every exit until we accidentally found one that led to Ron's. We were pretty tired and headed off to bed as we wanted to make an early start as we had a big day ahead.
Day Three - Saturday 15th October - E-Live 2005
After the previous two rather tiring day our good intentions of an early start came to nothing as we slept in late, luckily, as we were playing in the evening we only had to get our gear to the venue by lunchtime. We just about managed it as we only got slightly lost on our way to the venue. thanks to Ian we got our stuff in as Pyramid Peak were sound checking, and stored it all on the side of the stage.
We then went off to the artists dressing room for some food and a chat with the Kees and the boys from VoLt, then we had a wander round the stalls before the acts started up. It was nice to meet a few people from the
EM forum
and chat about music and stuff.
The first act on was 'Fear Falls Burning', billed as an ambient guitar project. He produced some rather loud and occasionally abrasive drones and loops that built into a cycling wall of noise. It was rather interesting to see a mass exodus of folk who weren't at impressed. No photos I'm afraid as it was too dark :)
Next we nipped upstairs to see René van der Wouden, from Holland, who was performing on the sub-stage between the acts on the main stage.
René apparently played three quite different sets, but due to having to get our gear onstage and soundchecked as soon as Pyramid Peak had performed, we only managed to catch the first set. This was pretty pleasant melodic EM, with some nice sequencing and understated solos.
Next up on the main stage were Pyramid Peak, from Germany, who seemed to perform their set to backing tracks played from a DVD which provided the synced visuals. The music was quite good and what was played live was execute well, I just felt that the backing sounded a bit flat and let them down a little. It was an extremely professionally executed performance, but it just seemed to lack life.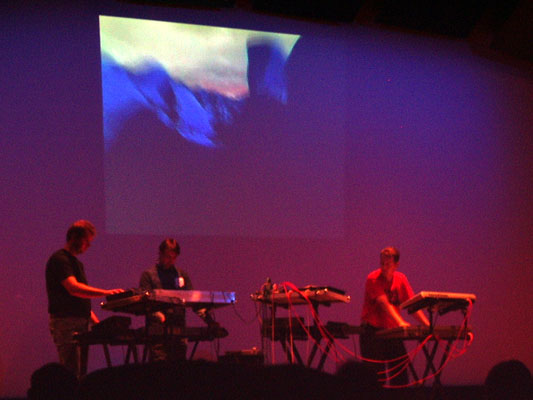 Next up were Steve and I, Steve to do about an hour or so as Create, then the two of us to do the encore together as Astrogator, following the example of Gert Emmens and Ruud Heij from E-live 2004.
Both VoLt and us had about an hour to setup and souncheck, apparently we did really well as we were ready to go after 45 mins, so Steve got some extra practice time.
Setting up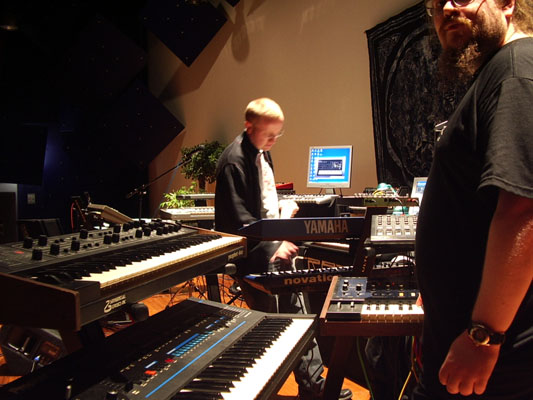 Soon it was time to take my seat and watch Steve's performance, which I thought was much improved over his performance at the Awakenings in August, thought there was one small timing problem in the last track, but I doubt many people would notice.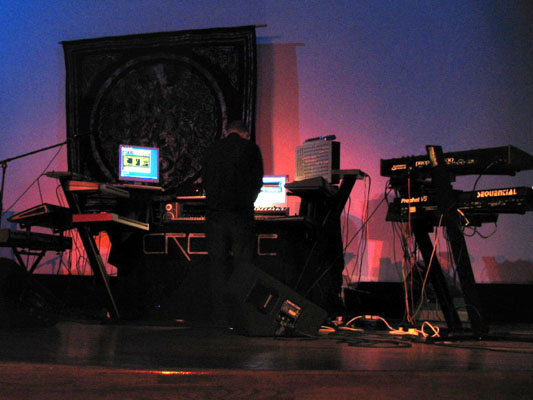 (Thanks to Martin Hoegee for the photo)
As Steve started his final piece I started to get a bit nervous as I would be joining him on stage soon. I actually thought about pretending to have fallen asleep, which wouldn't have been too difficult as the long days and lack of sleep were starting to catch up on me. Then Steve was announcing that I was to join him and I had to do the long walk down to the stage, across and up to my synths.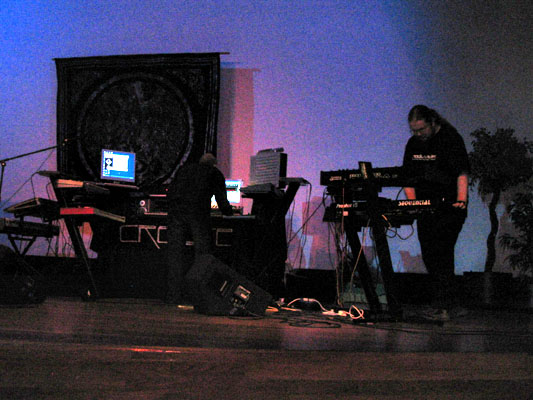 (Thanks to Martin Hoegee for the photo)
I started the piece with some rather nice ambient sounds from my Prophet VS and some FX from the Prophet 600, then layere in an arpeggio from the Korg Mono/Poly. Steve joined in with some spacey sounds and we gradually built it up until it was time for the main sequence to come in. I dropped ou the arpeggio an layered up a few sounds to allow Steve's sequence to be mixed in and then we were off on the main section and all the nervous energy was unleashed. Too soon it was time to draw everything to a close, which we did in time honoured tradition with a nice spaced out ending.
I think it went down well as we seemed to get a fair amount of applause, which helped make all the effort worthwhile.
Loads of people came up to the stage to look at our gear and take photos and several said they had really enjoyed it. There were some nice comments about my gear too.
We got some good feedback about the fact that both Steve's main set on his own and the two of us together as Astrogator had obviously been 100% live, which people seemed to really appreciate.
We almost sold out of Astrogator CDs after the show and Steve was busy signing Create CDs. I even got asked to sign a copy of The Darkness Between, which was quite nice.
All too soon it was time to head back to the auditorium to see Steve and Mike. VoLt had almost as much gear on stage as we did, and used it to good effect, producing a set of classic sequenced EM, marred only by a mysterious hum which turned out to be somehow be something to do with the lights. A particular highlight for me was a medley of old Michael Shipway tracks in the middle of the set, and the rocking encore.
I have to say, if I had only gone as a paying audience member, this set would have made it worth going all the way to Holland. As it was meeting VoLt and getting to know Mike and Steve as fellow musicians made seeing them play even more enjoyable.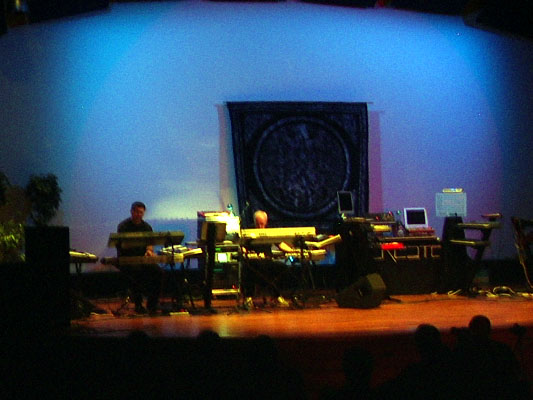 Then it was time to pack up, helped once more by Mr Russell. Unfortunately we couldn't go into town for a farewell beer as we had a car full of gear to get home so we headed back to Ron's for the traditional post gig kebab supper with the crew.
As ever we managed to get lost once more, but still made it back just as everyone was starting to eat and managed to get some food and join in the discussion about how the day had gone. which was very well apparently, then it was time for bed, 'cos we were knackered.
Day Four - Sunday 16th October - The Aftermath
We stayed in bed 'til 11:00, then got up to have a lazy breakfast, then we were joined by Ron who showed us round his studio and played us a new track from his next album. We had an interesting afternoon talking about gear and recording and found out a lot about Ron's history as an electronic musician and the history of E-Live.
Soon it was time to head for Rotterdam to catch the ferry home, which we managed to do without getting lost at all :-)
The ferry back was much the same as the ferry over, so not much to tell, except we decided to have the beers we hadn't been able to have the night before and had a pleasant evening getting ever so slightly drunk ;-)
Day Five - Monday 17th October - The Traffic Nightmare
With the time difference and journey time we expected to get into Hull pretty early, only to find that they had obviously come back slowly to compensate, which lead to us getting into Hull just in time to hit the morning rush hour. It took us nearly an hour to get onto clear roads, then we hit fog on the M1 and it was back down to a crawl for about another hour. This wouldn't have been so bad except that Steve had to work that evening and wanted to meet his girlfriend for lunch before he went on a late shift for several days.
In the end it he was lucky as work actually gave him the day off, but it was pretty frustrating as we were sat in traffic, and nearly spoiled the whole experience, but not quite.
Maybe one day we'll get to go back and do a full set together, I certainly hope so it was great fun.